As of a couple years ago recent analysis of the galaxy's dark matter as well as the position of the stars have led several astronomers to believe that the galaxy is in fact a specific type of spiral galaxy known as a barred spiral.
This sub type is characterised by a fairly large and thick band of stars running right through the centre bulge.
many scientists think it looks something like this.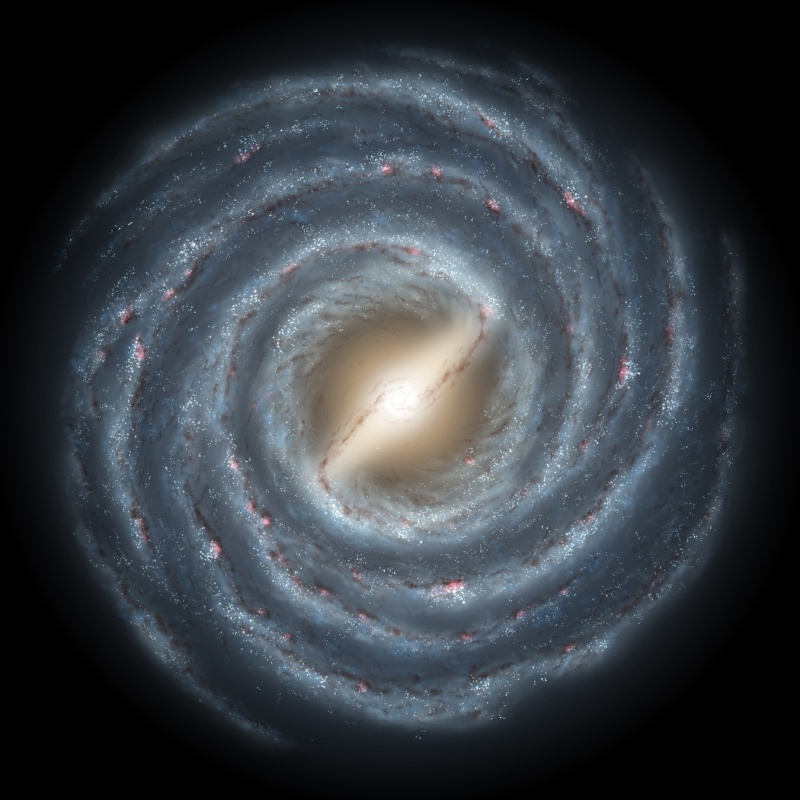 added to that there are several dwarf Galaxies, here is a map of the milky way showing the arms, and a larger distance one showing the dwarf galaxies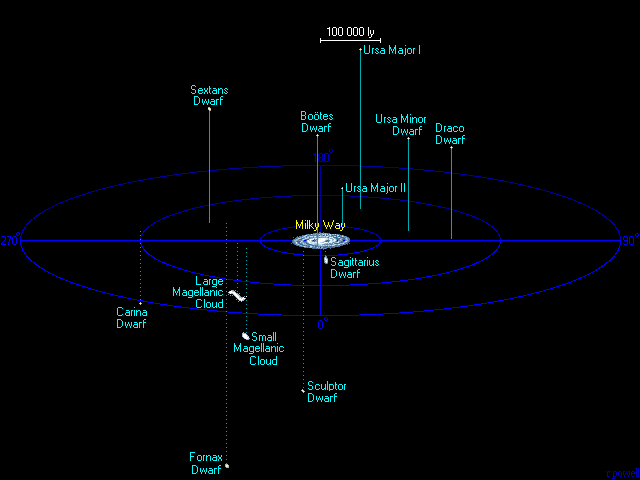 Is it true that the milky way will collide with andromeda galaxy?

Mithokey

Dismissed





Posts

: 5


Reputation

: 0


Join date

: 2010-12-28



yes it is true! in fact it will happen in approximately 1-2 Billion years and finish in about 5-6 billion years! the end result being a new galaxy and the earth being moved farther out in the arm... if it's still around after the sun has swollen up and entered the red giant phase
Wow, thats cool... it looks like earth will be toast then. I bet we will be able to travel throughout the universe easily way before that happens! (hopefull)

Mithokey

Dismissed





Posts

: 5


Reputation

: 0


Join date

: 2010-12-28






While I believe that the sun is going out in some more time, my concern in that time will be a star, planet, or a object that colides with our planet or our sun that will destroy us from that galaxy. I don't really have any fear due to the fact that it will occur in billions of years from now, and it will not occur in thousand nor in a millon years from now. So don't worry! Live Long and be happy!
Happy exploring
LC




Last edited by Lot Creator on Sat Feb 05, 2011 7:20 pm; edited 1 time in total (Reason for editing : Forgot something D:)

Lot Creator

Admin





Posts

: 82


Reputation

: 0


Join date

: 2011-02-01



one thing you have to remember Lot creator, there is Vast distances between stars even when galaxies collide. they don't collide per say... it's more like they pass through each other like ghosts while their center's of gravity shift and change and sometimes (like in the Andromeda/milky way case) merge.
it is a possibility for a star to pass close and hurl asteroids and other debris at us due to it's gravity
it's also likely that in 500,million to 1 Billion years the sun will be too hot for the earth to sustain life so by this time we will probably either be on mars (through teraforming) or another planet somewhere else... that is if we don't annihilate ourselves first


---
Permissions in this forum:
You
cannot
reply to topics in this forum